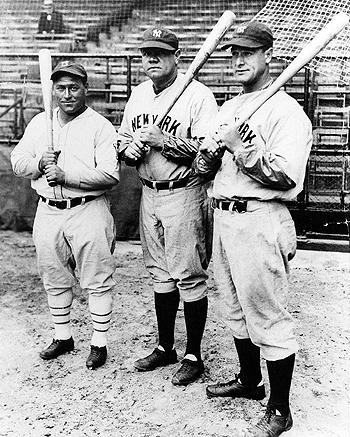 "Heavy Hitters of the Big Leagues"
Hack Wilson was the leading power hitter in the National League thru much of the 1920's and 30's ... some call it the golden age of sport. Pictured here with Babe Ruth & Lou Gehrig of the NY Yankees in '32 when Wilson played for the Brooklyn Dodgers. I felt compelled to purchase a print of this photo to illustrate Wilson's compact stature.
Wilson was a capable outfielder, but did have a few misadventures at the worst possible time: during a '29 World Series game while playing for the Cubs. Twice he misplayed fly balls, credited with 2 errors and likely contributed the team's defeat.
Over 12-yrs in the major leagues Wilson compiled a career batting average of .307, hit 244 homers, and 1,062 runs batted in. He was voted into the Hall of Fame in '79, 30-yrs after his death. While reading all I could find about the guy I stumbled on a cute article written by Ira Berkow published in the NY Times in 1988:
"In his short career with the Dodgers, Wilson played for Mgr Casey Stengel. In a game against the Phillies in the compact Baker Bowl in Philadelphia, Stengel had come to the mound to remove pitcher Walter (Boom Boom) Beck. Wilson was in right field, his hands on his knees, his head down, exhausted from chasing baseballs hit off Beck. It was hot, and maybe Wilson had been out late the night before. Beck didn't want to leave the game, argued with Stengel and then flung the baseball that hit the tin fence behind Wilson. Startled, Wilson leaped into action, raced to the fence, picked up the ball and made a perfect throw to second base. ''It was the best play Hack made all year,'' Stengel said."