Have You Read The Mueller Report? Guaranteed, the Russians Are

Donald Trump's initial reaction to the release of the Mueller Report and his personal attorney Wm. Barr's 4-page summary was predictable: "no collusion, no obstruction, total vindication, total exoneration" ... and the media dutifully repeats the same claims including video sound bytes and reprints of numerous Twitter messages. Never mind the fact that Mueller's report did not say that;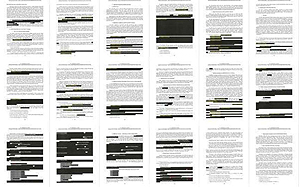 the PR battle was launched attempting to frame the conversation. First impressions matter when we're dealing with a base of supporters who will never bother to read the actual report. But facts have a way of coming out. Are enough voters paying attention?
So now, after a few days of news coverage devoted to the actual text of the redacted version of Mueller's Report, the Donald and his surrogates are scrambling to advance the argument that the same report they initially embraced, is now "fabricated" and untrue. Even though many of the investigators on Mueller's team, including Mueller himself, are registered Republicans, the Donald spews assorted falsehoods: "the product of 18 angry Democrat Trump haters" and question the validity of the "oranges" of the investigation - an obvious "illegal hoax". The investigation "never should have happened" says a parade of FOX News sycophants. Forget the fact that the 448-pg report identifies 140 contacts between team Trump & Russians & WikiLeaks. Forget the details about TEN instances of possible obstruction, or the 14 open investigation cases that are still pending (12 of which were redacted in the report). It's obvious that Trump supporters do not understand the distinction that a decision not to indict is not the same as being declared innocent. Even Attorney General Barr attempted to frame the discussion by mischaracterizing Mueller's findings in thinly veiled pre-buttal 30-minutes before the redacted report was released. Trump and Barr realize the facts in the report are not flattering - they know they are not winning the debate based on facts, so they try winning public opinion. "The investigation never should have happened," the Donald Tweets. He's right - voters never should have elected the creep.