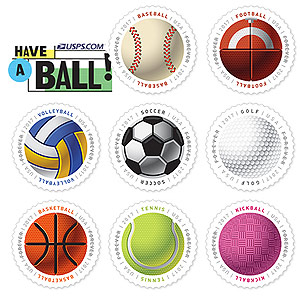 Have A Ball!
Perhaps it's a simple form of escapism, but as the Trump administration proceeds on it's path to destroy life on Earth as we once knew it, the US Postal Service introduces some fun new postage stamps. "Have A Ball!" Forever Stamps - meaning, it will always be worth what it costs to send one 1st class item - even if you misplace it for decades. Louise picked-up a sheet of the new stamps the other day at our local post office....they feature balls used in baseball, basketball, football, golf, kickball, soccer, tennis and volleyball. For those of you who stopped mailing anything when you got your "smartphone" the postal service is where you go to send a letter or a package.
This information is being shared with the hope that a few folks who have clamored to "make America great again" will realize that we already are great. Some 30% of Americans who don't actually follow the news because they think it's all "fake" or a "hoax" but this item is actually true and can be verified. Try it out for yourself...first, write someone a letter - maybe a relative like your favorite Aunt who wonders if anyone still cares for her. Next, march right down to the local post office near you while we still have 'em and buy a freaking stamp! Step 3: attach stamp to letter and deposit same in mail slot or mailbox designed for out-going correspondence.
Louise said the clerk was excited to share her observation that a special coating was applied to selected areas of the stamps during the printing process which gives them a texture that mimics the feel of a baseball's stitching, or a golf ball's dimples. Cute. Best value on Earth for just 49¢
Sidebar: "So Mike...when are you going to get over it and stop with the Trump bashing?" Answer: never. The guy is a joke and dangerous; if he does not start World War 3 we'll be lucky. He needs to be removed from office - until that happens none of us can remain silent.