Mixed Reaction to Mid-Term Elections
My personal assessment of the recent Mid-Term Elections is mixed. I was hoping for that Blue Wave and saw some evidence in select pockets of our state and federal government, but also too many shameful examples of racism and hate that has been present ever since America voted not once but twice for Barack Obama. I had hopes after his 8-years in office cleaning up the last series of messes created by Republicans. I had hopes that the process would continue of cleaning up our environment, reducing threats of nuclear war, improving our voting laws and eliminating gerrymandered voting districts created by Republicans following the 2010 census. I had hopes that social movements such as Black Lives Matter and Me Too would have a positive and lasting impact on our society.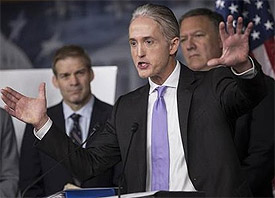 Sadly, the racist inclinations that surfaced in the 2016 election have simply continued...and in many ways gotten worse under Donald Trump's leadership. Unnecessary tariffs are causing job losses in many sectors. Hit especially hard are farmers and the manufacturing industries that helped fuel the Donald's electoral college win. Racism and nationalism are at the core of the political divide in America today. If you doubt me perhaps you can explain how and why Cindy Hyde-Smith defeated Mike Espy in the Mississippi Senate race. Republican voters in Mississippi may not be thrilled with Hyde-Smith as a candidate, but they are coalescing behind her because her opponent is Black. "...it's about our conservative values," Hyde-Smith said at her victory celebration in Jackson, MS. Why were voters NOT outraged by the backlash to her racially-tinged comments: "If he invited me to a public hanging, I'd be on the front row"? And why were voters NOT turned-off by Hyde-Smith when she said that making voting more difficult is a "great idea." Why the hell not, indeed? "She's a Republican, I guess," said Jerry Smith, a grandfather and longtime Mississippi resident, about why he was voting for Hyde-Smith...as if that explanation was valid. (It is not.)
Republican voters also re-elected two members of the House who have pending federal indictments: Rep. Chris Collins (R-NY) charged with securities fraud, and Duncan Hunter (R-CA) charged embezzling a quarter of a million dollars from his political campaign funds. The 60 counts against Hunter assert the Congressman and his wife spent campaign dollars on personal expenses like vacations, clothes, and theatre tickets. Both of these creepy guys, Collins & Hunter, were just re-elected in the mid-terms by Republican voters. As was Jim Jordan (R-OH) shown above left, even though he's been charged with ignoring sexual assault charges while he worked as a wrestling coach at Ohio State Univ. Trey Gowdy, above center, opted to not run for re-election after embarrassing himself as Chair of the United States House Select Committee on Benghazi. Mike Pompeo (R-KS) now serves as our nation's Secretary of State which is quite a joke given his work while in Congress on the same House committee that Gowdy chaired. Pompeo was also famous for mistakenly referred to President Obama as an "evil Muslim communist." These people are just flat-out pathetic, as are the voters who keep them in office.
Personally, I am pleased that virtually everything & everyone I voted for won. The recreational pot referendum in Michigan passed by a wide margin as did 2 other referendums designed to reduce voter suppression tactics deployed by Republicans like gerrymandered voting districts and voting rules impacting same-day registration and absentee ballots. The nation should follow Michigan's lead on all three initiatives. Thankfully Michigan voters reversed the narrow Thump vote record from 2016 and rejected Republican candidates for Governor, Secretary of State, and Attorney General ... posts won soundly by Democratic women! Sadly, the state legislature remains in control of Republicans which makes no sense. Democratic voters in Michigan out numbered Republicans 56.2% to 43.8% ... so why don't Democrats control the legislature? Answer: gerrymandered voting districts ... which the newly created Independent Citizens Redistricting Commission will get a chance to resolve. Hopefully in 2020 the voter trend to toss-out the GOP will continue.
Sure Democrats gained 40 seats in the House of Representatives with one seat still being contested (as of 11/30/18) but they did not regain control of the Senate. Why is that? Why any Republican got more than a handful of votes is beyond me. Democrats deserved to sweep the nation with positive voter margins of 95% or more. I recently read a noteworthy quote from science observer Bill Nye that I think is appropriate here: "People disagree with me on this, and the reason they disagree is because they are wrong." The facts support my position (see substantiating articles linked along the right-hand column of this webpage); the nation has gotten ugly and evil, and those responsible need to be voted out of office ... like Duncan Hunter, Chris Collins, Cindy Hyde-Smith, and most all Republicans.