Got that nagging feeling someone is listening?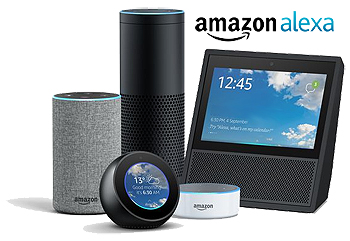 You may be spot-on correct. Louise & I often tease each other that our conversations are indeed being captured by others. While watching news or a sporting event we'll make a comment ... and then 10-seconds later the announcer repeats what we just said. Example ... the golfer's 2nd shot on a par-5 goes right in the hole ... "albatross," Mike says. "Also known as a double eagle, three-under-par on a single hole." Moments later: "An albatross!" CBS announcer Gary McCord repeats. Knowingly, we nod and look about as if trying to find the hidden microphone.
We've avoided most "smart devices" in our household. OK, we have a "smart TV" but rarely use the features that connect it to the worldwide web & the microphone is disabled. The internet of things can't be found at HighPointe, We have no photo capturing doorbell, no "security" cameras. Our lights, thermostat, garage door opener & refrigerator are not connected either. But we still had fun listening to an NPR story on Fresh Air: "How Tech Companies Track Your Every Move And Put Your Data Up For Sale." Washington Post tech columnist Geoffrey Fowler listened to four-years' worth of audio that Amazon had captured and stored from his Alexa "smart speaker". He was surprised by what he found. I wasn't. [link] Fowler's discussion about Alexa data mining begins at the 26-minute mark; prior to that Davies & Fowler discuss a host of issues with various computer browsers, extensions, and apps for computers and "smart phones".
You'll want to hear that complete story above if you're like most American households - well equipped with the latest smart devices, computers & mobile phones. After which you may want to know: "How to Review and Delete Your Alexa History" (and delete the more embarrassing inquiries). Here's a link to a source that'll show you how to do it by voice, in the Alexa app, and on the web: https://www.pcmag.com/feature/361437/how-to-review-and-delete-your-alexa-history