No Wonder Our Middle Class is Vanishing: They've Been Out-Sourced!
Outsourcing. It's a sterile sort of word that was meant to sound positive. It describes what happens when a business arranges to have another company assume responsibility for a job function to save costs and cut expenses and improve efficiency. And, to quote the Supremes: "it could happen to you"!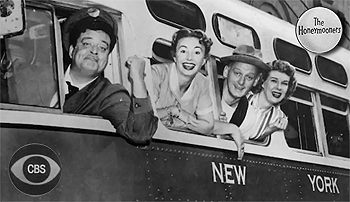 Not more than a generation ago the folks who picked up trash ... the guys who drove the garbage trucks in your neighborhood were employees of that community. The staff of cafeteria workers & janitors in local schools were employees of the school system. Bus drivers? Yep, they were employees of the city or town the transit system serviced. And these were jobs skillfully handled by local citizens who lived in or near the community they served, shopped at local stores that also employed folks that resided nearby ... folks who paid local taxes and contributed in countless ways which represented the American dream.
I grew up in the '50s believing in these simple truths which were reinforced by popular culture of the era: television. Pictured above / right: Ralph Kramden the eternally optimistic NY City bus driver living with his wife, Alice, Ralph's best friend & sanitation worker Ed Norton with his wife Trixie ... lead characters in CBS hit TV sitcom 1955: "The Honeymooners". Art Carney who played the character of Norton won 3 Emmy Awards for his convincing performances of a typical middle class fellow.
Yesterday I was reading the news of the day and stumbled upon a disturbing headline:
Boeing's 737 Max Software Outsourced to $9-an-Hour Engineers
The Max software -- plagued by issues that could keep the planes grounded months longer after U.S. regulators this week revealed a new flaw -- was developed at a time Boeing was laying off experienced engineers and pressing suppliers to cut costs.

Increasingly, the iconic American plane maker and its subcontractors have relied on temporary workers making as little as $9 an hour to develop and test software, often from countries lacking a deep background in aerospace -- notably India. [source]
No wonder our "middle class" is vanishing, I thought … they've been outsourced! The story was yet another chapter in horrific accounts of two airliners crashes involving Boeing's latest designs of their 737 jet liners. And it's the latest example of corporate greed that has put profits ahead of supporting the citizens and our social fabric in this grand country. (Outsourcing is also at the root of some issues related to our current immigration debate ... prisons and detention facilities that are run not by employees of a city, state or the Federal government but rather private for-profit companies. And what could go wrong with that sort of arrangement?? Plenty...but that's a rant for another day.)