If You Voted For Him, You Share In The Blame
The New York Times published a full page ad recently to list the many lies and inaccurate statements made by the Donald in just his first 6 months in office. The ad, and companion news article, ignores the previous years of nonsense that Trump uttered during his campaign for office. The Times wanted to focus only upon those things the Donald has said or Tweeted about since just January 20th of this year. Stuart Thompson, graphics designer for the NY Times says: "We wanted to put Trump's Lies in print...and I needed an entire page to do it." It's worth reading.
Online link.
Full text alternative.
Deputy Press Secretary Sarah Huckabee Sanders had a complete, unprofessional meltdown yesterday (6/27/17) while addressing the White House press corps. Fortunately, the session was video recorded and documented. When asked to comment on the inaccurate work by a few CNN reporters & their resignations, Sarah said: "I don't know if that response is good enough," Sanders said Tuesday to the softball question tossed out by a Breitbart journalist. "It's the barrage of fake news directed at the president that has garnered his frustration ... We have gone to a place where if the media can't be trusted to report the news, then that's a dangerous place for America." Seriously? Given the documented list of White House & Trump gaffes in their first six months of office Sarah's label "fake news" is highly misplaced & laughable. She referred to the pending Justice Department and Congressional investigations as "the Russia, Trump-hoax" and then promoted another shameful video investigation by defamed, disgraced faux-journalist James O'Keefe. (Remember his manufactured, inaccurate expose on ACORN...or his flawed attack on Planned Parenthood?) Yeah, right, Sarah...let's all dwell on the nonsense O'Keefe produces. And Barack Obama is actually a citizen of Kenya.
What's really rich is the actual news about some "really fake news" - another self-inflicted wound by the Donald reported by The Washington Post: "The framed copy of Time magazine was hung up in at least five of President Trump's clubs, from South Florida to Scotland. This cover — dated March 1, 2009 — looks like an impressive memento from Trump's pre-presidential career. To club members eating lunch, or golfers waiting for a pro-shop purchase, it seemed to be a signal that Trump had always been a man who mattered. Even when he was just a reality TV star, Trump was the kind of star who got a cover story in Time. But that wasn't true. The Time cover is a fake. There was no March 1, 2009, issue of Time magazine. And there was no issue at all in 2009 that had Trump on the cover."
How is this all going to end?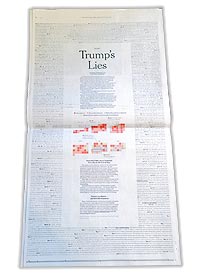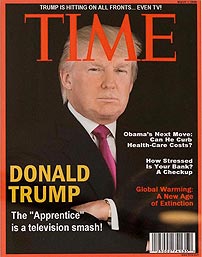 The real fake news.