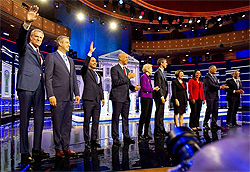 First Democratic Presidential Debate Positive - Focused on Issues & Policy
While it's early in the 2020 election process to restore balance and sanity to our national government, last night's first Democratic debate provided voters with a refreshing & smart discussion among a group of serious contenders and the issues the nation faces. Hopefully "round 2" tonight will continue to show American voters that literally every one of the Democratic candidates embrace substantive solutions - and offer the country credible alternatives to Donald J. Trump. The candidates are a breath of fresh air: no personal insults, no name calling or juvenile boorish behavior. Rather than copy the cry from cable news talking heads there was little talk of impeachment or the Mueller investigation - instead, candidates focused on topics that interest voters: policies, pocketbook issues, immigration solutions, and restoring respect in government service.
For me, two participants really stood-out: Julián Castro & Amy Klobuchar. Secretary Castro offered enthusiastic specificity in his responses, and Senator Klobuchar proved to have the best common sense on the packed stage ... while Beto O'Rourke demonstrated that losing a close election to Ted Cruz in 2018 is not a qualifying attribute to be President of the United States. Sorry. Tim Ryan and John Delaney oughta' stop milking people for campaign contributions - time to pack it in early, guys. Three others seem destined for the same path: Bill de Blassio, Tulsi Gabbard & Jay Inslee - though each did show a glimmer of hope and provided some interesting ideas for the audience to chew on.
Klobuchar was informed and thoughtful, especially on immigration issues. The Senator provided a nice positive contrast to Trump: "Immigrants do not weaken America," she told us. "They make us stronger." I reject the Republican-fed notion that Democrats want "open borders" for immigrants flock, and Klobuchar's comments about creating paths to citizenship for immigrants seems just about right - these people can contribute to our nation and Amy proves her centrist position is what most voters want, while avoiding the pitfall of attacking her follow Democrats. A Biden / Klobuchar ticket?
Personally I am tired of hearing how noble Senator Corey Booker thinks it is that he lives in or near a ghetto ... I have to question the guy's judgment for living in the midst of gun violence and discord. Senator Elizabeth Warren did well in the first debate with well prepared, concise policy ideas ... I just don't share her belief that America needs to be paying off student debt. Democrats need to win back the Senate in 2020, and keeping Booker & Warren in those seats is essential.
One complaint or observation I had was the decision by moderators to ask 40% the group far fewer questions. Gabbard, Ryan, Delaney, & Inslee had nearly half the time to shine compared with the other 6. Hope that trend does not carry over to round 2 tonight. Tune-in, America. This matters.