The Golden Era of Sport...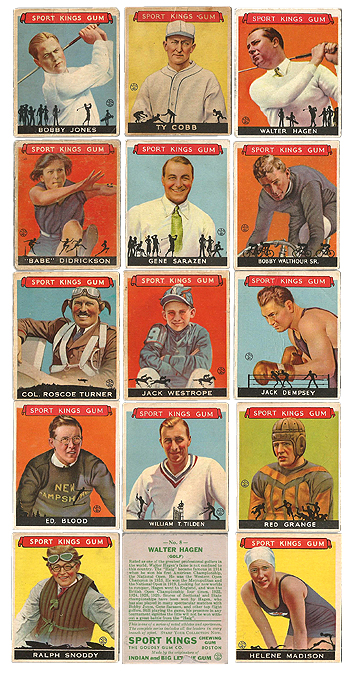 They've become a favorite around these parts, my 1933 Sport Kings multi-sport series has grown as I picked-up more well loved, battered & worn cards. I started with a group of six, and then gradually added 8 more to my collection as reasonably priced cards became available. I'm stopping at 14.
My father's boyhood card collections included a few well worn cards from a 1933 series by the Goudey Gum Co. called "Sport Kings" which included 48 athletes from a variety of sports. There are a few baseball stars, a few footballers. But this series offered something more as you can see to the right: stars from hockey, tennis, golf, basketball, skiing, skating, horse racing ... even dog-sled racing, boxers, cyclists, track & field and aviators. Dad had one card worthy of keeping: a wrestler named Don George who I gave to brother Tom.
Several stars were included in my recent acquisitions: golfer Bobby Jones and baseball legend Ty Cobb. I'm also thrilled to add Hall of Fame football running back Red Grange, heavyweight boxing champ Jack Dempsey, tennis legend Bill Tilden, and golfing great Walter Hagen. These stars were born in the 1890's and competed in their respective sports around the same period of time: 1910 - 1940.
Dempsey was particularly famous for his "exceptional punching power&quot winning 44 of his bouts by knockout. Tilden won 138 career titles including multiple victories at Wimbledon, the French & US Open tournaments. Hagen won 75 events in his career including 11 major championships - only Jack Nicklaus (18) & Tiger Woods (15) have won as many major tournaments.
To round out the group I picked-up 3 lesser known Sport Kings ... American Hall of Fame thoroughbred horse racing jockey: Jack Westrope, cycling champion Bobby Walthour, Sr., and Olympic Ski-jumper Ed Blood. Blood was captain of his Univ. of New Hampshire ski team, and was inducted into the US National Ski Hall of Fame in 1967. Brother John thinks Mr. Blood resembles our father.
I just loved the illustrations of speedboat racer Ralph Snoddy, and pioneer aviator Roscoe Turner, and had to add their smiling faces to my rich Sport Kings collection. Notably the series included female sports legends of the period: golfer / track star Mildred "Babe" Didrikson (though Goudey embarrassingly misspelled her last name) and swimmer Helene Madison, who won 3 gold medals in the 1932 Olympics.
Didrikson's card in particular is rare - difficult to find, so I was initially planning to use an inexpensive reprint of her card for this framing project, but my brother John kindly gifted an awesome, PSA graded Babe Didrikson card & a neat biography "Wonder Girl" (shown below) about her life and career, sadly cut short. Babe died at age 45 - cancer.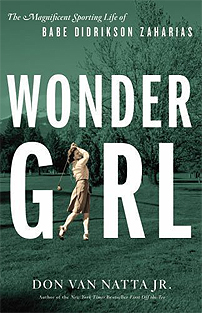 I learned a great deal from this well-written book about Didrikson and her amazing athleticism. In 1932 Babe was a "one-woman team" at the National AAU Championships for women's track & field; she won 5 events outright and tied for 1st in a 6th event thereby winning the team championship single-handedly. Her AAU performance secured Babe's entry in the '32 Olympics held in Los Angles, winning 2 gold medals (javelin, 80-meter hurdles) and a silver medal (high jump).
Didrikson dabbled at basketball, baseball, billiards and other sports following the Olympics when few income-generating career opportunities were available to female athletes. Golf became Babe's best option, winning both amateur and pro tournaments (48 of 'em)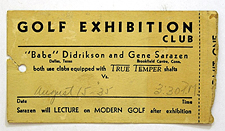 in her short career. It's ironic that I selected the above collection of well-loved cards from the Sport Kings series ... it turns out Babe played quite a bit of golf with Gene Sarazen - they were barn-storming partners playing coast-to-coast in a series of golf exhibitions in 1935.
posted 05.23.19 (revised 06.23.19)