originally posted June 13, 2010
"About Mike" revised 04.09.19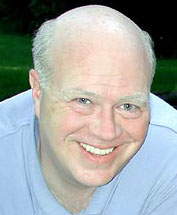 Hi. Mike here. I'm a life-long resident of Michigan, and proud of our diverse state. Married to a wonderful gal, Louise, founded and operated a nice, small retail business: J.J. Cardinal's Wild Bird & Nature Store. Louise proudly sold her business in October 2017 after 25-consecutive profitable years. Not an easy task in this internet shopping era.

I grew up in the 50s & 60s in the Metro Detroit area, then moved north to Greenbush when my family converted our summer home to a year-round residence. Life along Lake Huron shore was a great experience – thoroughly enjoyed living in a small town!

It was at Central Michigan University that I picked up the dementis canis nickname (Mad Dog). Good friends Ted & Gary had left a note on their dormitory door: "MD-20/20…we're down the hall, c'mon down!" It was easy to find 'em – just follow the sounds of Jethro Tull echoing through the building; upon entering the room I was met with a loud chorus of "Mad Dog!" Ted later explained it was merely a spin on my initials and the popular rot-gut beverage Mogen David 20/20 which I think I drank once. And only once. But the name had a rather roguish quality, and Mad Dog stuck. Kids in the dorm would introduce me to their parents (as Mad Dog) when they visited…which became even more of a hoot when I became a Resident Assistant (RA) in the dorm; I can only imagine a few parents had interesting conversations on their way home wondering if junior or Jane were safe. (Yeah, it was a co-ed dorm. Naturally.) Years later I was giving a presentation at a CPA firm in Saginaw and from the back of the room one of the junior accountants attending the program exclaimed loudly: "well, if it isn't Mad Dog!"

Since many of the comments I'll likely post to this webpage will relate to current events, news, and politics I'd like to mention my political orientation is solidly "independent". Some have accused me of being a "Democrat" or "liberal" as if that's something one should be ashamed of. Prior to the 2000 elections I guess I considered myself to be basically "Republican" – voting for Nixon, Ford, Dole, Reagan, and G. H. W. Bush. But there was no way I could support George W. Bush and felt his election (and amazingly his reelection) was a bad sign for our country…and history has proven that concern to be valid. The man was completely unqualified to be President and without his family heritage there's no way he would have gotten as far as he did. Anyway, after struggling with 8-years of W I learned to view the world and politics more objectively. Since that time I've seen the Republican party shift even further to the right – and it's not a pretty sight. Especially with some 30% of our adult population supporting a reality TV star to be President. This is even crazier than Reagan winning two terms in the Oval office...what is wrong with people??? (Hindsight observation: Trump has now replaced GW Bush on my list of "most incompetent" President ever elected.)

On the positive side of the equation, in 2018 Michigan voters got a chance to approve a referendum to end Gerrymandering in our state's voting districts. Republicans lost appeals to our state Supreme Court to block the will of the people...typical. Reminds me of our current Gov. Snyder ignoring a citizen referendum to end his Emergency Manager policies eight-years ago...freaking hypocrites. Gov. Snyder's actions lead to the Flint water contamination. Tell me again why he's not being prosecuted! (Update: Michigan's new Attorney General is investigating Snyder's role in our water crisis debacle.)

Also approved 2018 election: marijuana is now legal in Michigan for regulated recreational use. If you'd asked me back in the 1970's about the odds of this happening, I would have said it's a crazy notion. But given the success we've seen in 9 other states and the success of medical marijuana in Michigan (since 2008) I'd say this is a fabulous development. Citizens should take a bow!