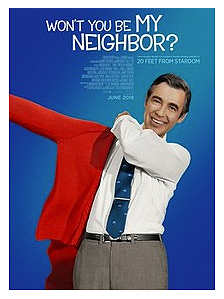 A Little Kindness Makes A World Of Difference
Documentary films typically have a short run at our local movie theatre, so when we read that a new film about Fred Rogers, Won't You Be My Neighbor, was in town we figured we'd better not delay. So glad we followed our own sage instincts and saw the film - it's fabulous! In fact, we like it so much we think when the Academy of Motion Picture Arts votes for the next Oscar awards they can save a lot of time & energy and just give 'em all to Won't You Be My Neighbor. Best picture, best documentary, best direction, acting, sound, music, etc ... hands-down.
Boys & girls...it is a sensational film. Made us choke-up a bit & shed a tear, and enjoy many laughs & smiles. Loved the history of the program and how the film maker ridiculed political conservatives for they way they dissed Fred Rogers, PBS, and the program over the years. Like when Fox & Friends host Brian Kilmeade called Rogers: "This evil, evil man has ruined a generation of kids." Such a negative comment. (Full quote is offered on a separate page - click here if you care to read it.) And how about the focus on learning to embrace, not resist, change. While kindness and empathy are in short supply today, it need not be that way, Mr. Rogers taught us. Ironic how a portion of the very 1st episode back in 1968 advocated peace & goodwill rather than intolerance and building walls and culture wars. It goes to show how timeless and spot-on the show really was....50-yrs ago!
It was also nice meeting Fred Rogers' wife and two sons who appeared in the documentary as well as seeing Susan Stamberg, former host of National Public Radio's All Things Considered. She's such a lovely woman - she retired too young. Fred Rogers died in 2003 at age 74.
coming up this winter: Tom Hanks to star in Mister Rogers bio-pic "You Are My Friend".