Even Some On FOX News Are Critical of AG Barr's Distortions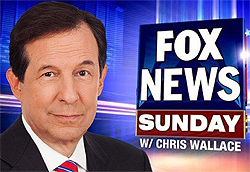 Even FOX News has begun to wobble on their coverage of Trump and Attorney General William Barr, Trump's "personal Roy Cohn" for their simplistic and inaccurate claim that the Mueller Report cleared the President: "no collusion, no obstruction, total vindication". The report says nothing of the sort even though the majority of FOX on-air personalities & opinion personnel incorrectly repeat the claim a few dozen times a day.
So many of us are delighted to read that Chris Wallace, one of the few bona fide journalists employed by FOX News, has "called out opinion hosts employed by his own network on Wednesday [05.01.19] for 'pushing a political agenda'." Wallace points out that Robert Mueller's two letters to Barr do not support Barr's testimony at the Senate Judiciary Committee hearing. [source]
Louise & I watched 90% of the 8-hour hearing and at times we both felt more than a little sick over the GOP Senators' questions (blaming Hillary Clinton and Democrats) rather that acknowledging Trump & his administration's despicable acts outlined in the Mueller Report. Personally one of many highlights had to be when Senator Kamala Harris got Barr to admit that he made his decision to not charge President Trump with obstruction based solely on the Mueller report summary and never bothered to read the underlying supporting evidence. So no, Senator Lindsey Graham (R-SC) ... this is not over!