Trade Negotiations With China Latest Trump Calamity
How pathetic are the American voters who fall for the Donald's nonsense? The New York Times reported yesterday that Treasury Secretary Steve Mnuchin is nearing a settlement with China. "We're getting into the final laps," Mnuchin was quoted as saying at the Milken Institute Global Conference.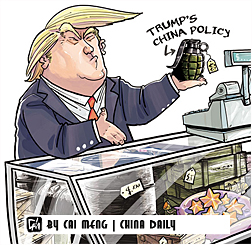 Let's see ... the Donald creates a trade war with China a year ago when he single-handedly applied tariffs to imported Chinese steel & aluminum, among other products which drives the costs up on goods imported in the US of A - tariffs that the American consumer pays. Also, tariffs are applied to steel & aluminum that our domestic automakers import to produce Chevys & Fords & Jeeps right here in the US of A ... the tariffs add roughly $700 per vehicle to the costs - again paid by American car & truck buyers. It also reduces the annual bonuses of UAW autoworkers since added costs imposed by Trump, personally, goes right to the bottom-line profit used in calculating employee profit sharing plans.
CNBC appears to be in cahoots with Mnuchin: "According to the report, Mnuchin said that while both countries are nearing a deal, negotiations are reaching a stage where either an agreement could happen — or it could end without a deal." I s'pose that must be true ... those are the 2 options: fail or succeed.
"But wait," the Trump administration hints to the media - a tiny tease for the voters to gnaw at for a few months. "We've almost resolved this manufactured crisis ... just in time to give us something to brag about for the 2020 election" ... GOP primary elections begin in Iowa on February 3rd, 2020 and the general election is just 18-months away. Wanna' guess what the odds will be that this topic is resolved before then?