Redacted Version of Mueller Report Released; Time to Read, Absorb
After another attempt to spin the facts by Donald's Trump's attorney William Barr the redacted version of the "Mueller Report" has finally been released. It should have been out weeks ago; Barr has proven that he's working almost exclusively for Trump and not for the American people. I hope citizens do themselves a huge favor and read it rather than letting FOX News, Sean Hannity, Barr, or even the Donald himself attempt to water-down the preliminary findings...they already are trying to do that. Congress should indeed file subpoenas today to obtain the rest of the report and supporting materials.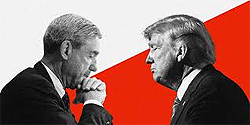 The first step should be some analysis on the Attorney General's redactions - likely he's concealing material that is damaging to the President or his supporters. The material should be revealed and legal action should begin immediately to bring to justice those who knowingly participated in this attempt to cover-up truth.
In my humble opinion the Congressional "gang of eight" should receive a copy of the totally unredacted report, with all supporting background material. The public version should have redactions only on material the intelligence community considers to be their "sources and methods&quot as well as the info that would interfere other ongoing prosecutions. The other 2 categories that Barr redacted should be challenged: grand jury testimony, & third party material involving "peripheral players" who were not charged with crimes (yet). The matters are too critical to limit the information available to the American people, and releasing the FULL REPORT is consistent with the handling and release of previous reports of this type. Some legal action should be taken against the White House and Attorney General for the 3-week delay that fostered Trump to inaccurately claim exoneration (see article below).
Download .pdf (save file and read off-line)