Mike's Hunch: Income Disparity Will Become A Bigger Issue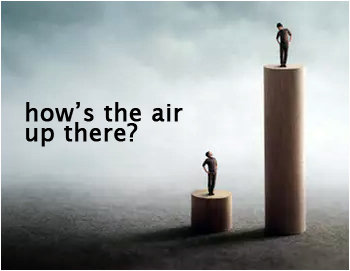 One topic that is top-of-mind for me these days is the issue of income equality. More to the point, income disparity. I am confident many of the problems in our world today are a result of the massive gap that separates those surviving on average or below average incomes vs. the mega rich. Keep in mind that I am a devoted capitalist, and have profited from some really good paying jobs over time through periods of stellar growth as well as some of the most challenging economies in modern history. Louise & I survived outrageous mortgage interest rates of the 1980's which were as high as 18% ... and we flourished through the fabulous 1990's growth years that many called the "dot.com boom" which was followed by the "dot.com bust" in the early 2000's. No, I didn't own the highly speculative dot.com stocks (mostly tech-based firms). We did survive the '08 recession and economic meltdown by keeping our heads on straight & staying fully invested in solid, conservative holdings: mutual funds with low fees, municipal bonds, and government agency bonds. (Mike's a particular fan of Treasury Bonds and detests paying interest ... hasn't had a car loan since the 80's and today drives a trusty sorta' rusty 14-yr old pick-up truck.)
Some economists say that a low-level of income or wealth disparity helps fuel growth and investment activity which benefits all of society – low and high earners alike. I'm not convinced; I worry more about social unrest, crime, and political instability. There has to be some connection as well to the overall health of citizens, educational opportunities, and may even lead to cases of political corruption. Wealthy groups of people often spend money to gain political favor among political figures and to appeal to voters of like socioeconomic status.
My interest in conservative economics does not mean I am politically conservative; increasingly I see income disparity growing and becoming a larger issue for all of society. And it's not just me – the media has been filled with stories about the Haves and the Have Nots … heck, even Oprah had a TV show by that same name on her network in 2013. Think of cries for $15/hr minimum wage 'burger flipping jobs and all the talk about the top 1% of wage earners in recent years. The disparity did decline slightly during the '07-'08 recession but today CEO compensation is rapidly increasing while pay to the average worker is not. Michigan's minimum wage is currently $9.45/hr. compared to our pathetic Federal rate of $7.25.
Meanwhile, the rich get richer: CNBC reports the typical CEO at 350 of the largest companies in the USA was paid over $15 million/year … more than 270 times greater than the average worker income at these same companies. Forty-yrs ago that figure (CEO vs. average worker pay) was 30:1.
Among the many things I've gleaned from my readings about vintage participants of the Golden Age of Sport, 1920-40, gives me a better appreciation for the evolution of pay and income in pro sports over the past hundred years. Early professional football players often were paid a set amount per game … typically $100 (which would be worth about $1,437 in today's dollars). At his peak for earnings power Babe Ruth earned $80,000 as a ball player … which is a bundle in that era ('14-'19 Boston & '20-'32 NY) and translates to about $1.25 million today - a far cry from what lesser talented players make these days. I recall reading as a kid that Al Kaline, Hall of Fame outfielder for the Detroit Tigers, refused a salary offer of $100,000 reflecting a nominal increase from his 1970 $95K earnings because Kaline said his performance the previous year did not warranted it.
Contrast those earnings with sports stars today: LeBron James, NBA basketball player, rakes in $85.5 million/yr. Several baseball players recently signed lucrative free agent deals: Mike Trout has a record-breaking $32 million annual contract with the California Angles for the next 12-yrs. (That's $384 million over the life of contract.) And Bryce Harper's new deal from the Philadelphia Phillies will pay him $330 million over 12-years. USA Today recently listed major league baseball salaries team-by-team … currently the Chicago Cubs have the highest average salaries in the major leagues: over $7 million per player. Keep in mind, that's AVERAGE. No wonder it costs north of $100 to see most major sporting events (seat, parking, snack) ... ten times that for a Super Duper Bowl ticket ... same goes for those attending music concerts and Broadway productions. How can the average dude or dudette afford to attend these events?
While salaries earned by athletes and entertainers can dominate the spotlight, their careers are often shorter than many business people. One good example of an over-paid business exec is Gary Cohn, former director of the National Economic Council advising President Trump. Prior to coming to the White House Cohn made much of his fortune on Wall Street ... the final 3-yrs working for Goldman Sachs were particularly profitable. Cohn was paid $21 million in 2014, $22 million in 2015, and $40 million in 2016 for salary, bonuses, stock options and dividends. But wait, there's more! Goldman Sachs also paid Cohn a tidy severance package worth $285 million upon his departure. Final tally, three years: $368 million. While Gary likely took some vacation time during those 3-yrs I don't have the details, so for illustrative purposes, let's just assume he worked really, really, really hard for that much cash and was on-the-job 365 days a year. That translates to $336,073.06 per day. And when we say Gary worked really hard, let's assume he put in 12-grueling hours each day for 3-straight years...or $28,006.09 per hour. He made more in just one hour than it cost 14-yrs ago for my trusty rusty pick-up truck [source]. Pause here for effect and ponder what it might be like to "earn" $28K an hour and then think about Cohn's primary task in the Trump administration: getting the Trump tax cut for corporations and wealthy individuals passed by Congress which had GOP majorities in both houses. A massive tax cut was promoted during Trump's 2016 campaign & advertised as a benefit for the average citizen ... so much for honesty among the GOP who previously claimed to oppose any increase to our national debt. Even the Treasury Dept estimates over 10-years that Trump's "tax cuts" are adding $2.3 trillion to our debt that your grandkids get to pay for [source].
Parade Magazine, the famously shallow Sunday newspaper magazine supplement, recently published their annual "what people earn" feature. It compared the income figures for dozens of average Americans like an aircraft mechanic who makes $80,050 or a travel agent who earns $45,000. The US Bureau of Labor stats says the average worker in America earns just about what the travel agent mentioned above in the Parade article: $46,889 /yr.
This really is a story about greed ... and hypocrisy. Its easy for me to get sidetracked on this topic because there are so many elements which expose the evil side of individuals & groups of people, particularly on the right. Think about how crazy it is for a guy like Gary Cohn who, just a year ago, had pocketed $28,006/hour but now has the gall to stand before the American people and brag, with a straight face, about a plan that cut taxes by an average of $4,000 per household. Tell me again why people keep voting for Republicans.
update 04.19.19 - GM CEO EARNS $21.8 MILLION WHILE CLOSING 4 US FACTORIES
Detroit Free Press reports on 04.19.19: "General Motors CEO Mary Barra took home slightly less in 2018 than the previous year, but remains one of the 20 highest- paid CEOs in America. For 2018, Barra's total compensation was $21.87 million - about 281 times as much as GM's median employee's compensation of $77,849, according to figures the company released Thursday. In 2017, Barra was compensated $21.96 million." Wow ... the average GM worker does pretty darn well compared to the national average ... so much for the Donald's recent attack on labor. FOX News reports: "The president criticized the leadership of United Automobile Workers and called on them to lower the membership fees for the organization's 400,000 members."
update 04.23.19 - Disney heiress: CEO Bob Iger's $65 million salary is 'insane'
...according to Abigail Disney, granddaughter of company co-founder Roy Disney. Reportedly Iger's salary jumped 80% in 2018 to $65.6 million — 1,424 times more than that of the median company employee.