Special Prosecutors Report Just The Beginning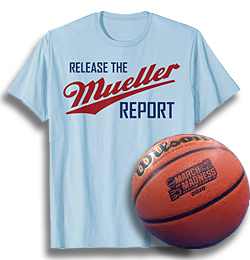 The way conservative news venues are reporting the completion of Robert Mueller's investigation and report delivered to Attorney General William Barr is both maddening and laughable. Fox News has plastered the ever-present "news alert" banner to their broadcast screen and have aired teaser promos, like: "what is in the Mueller Report? (Tune in to learn...) everything you need to know about the Russia investigation." Right. The fact that the report has been submitted to AG Barr in the Justice Department is about all we know at this point - very little content has been released but that doesn't stop radical right-wing extremists to claim: "see?? No collusion ... it's all been a hoax & waste of time and money."
I agree with the majority of folks who are calling for virtually the entire report to be made public with only a few minimal redactions. Since the scope of the Mueller investigation was quite narrow, any questionable issue that has been uncovered that did not involve Russian interference with the 2016 election has been referred to others in the Justice Department, such as the raid on Trump attorney Michael Cohen's office and residences. Other investigations into WikiLeaks, the Trump Foundation and assorted dirty deals by the President's business empire (falsifying property values, for example) will be further investigated by Congress & other Justice Department entities.
Meanwhile, the Republicans and conservatives have bombarded the public with nonsensical "analysis" that the "witch hunt" is over. Republican/conservative wing nuts have been dwelling on the cost of the investigation ($25 million) while ignoring that the fines already levied against former Trump campaign chairman Paul Manafort included over $22 million in real estate forfeitures and another $20 million in assorted assets & cash. Mueller's team indicted or secured guilty pleas from 34 people including six former Trump advisers, 26 Russian nationals, three Russian companies, and a UK-based lawyer. Seven of these people (including five of the six former Trump advisers) have pleaded guilty. Advisor Roger Stone goes to trial in November. And likely there with be a host of additional indictments from other branches of DOJ and the NY state attorney general. This is far from being "over".