Iconic WW2 Kissing Sailor Dies at 95 - Inspires Parody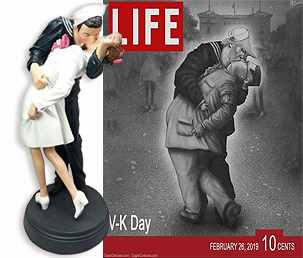 With former Trump attorney & fixer Michael Cohen testifying this week in Washington our master deal maker President has trotted off to Vietnam to solve a decades old North Korean problem that only he alone is able to solve. He's desperate for a "win." Meetings between Trump and N. Korean leader Kim Jong-un broke off when they were unable to reach an agreement much to the relief of virtually the entire world.
To Mr. Trump & all the radical right wing extremists who are delighted that our President has engaged in dialogue ... there's a reason his predecessors did not meet face-to-face with Kim (or his father before him) ... the simple act of such a meeting gives Kim a partial victory & lends legitimize his regime.
The famous pose to the right was captured as the world celebrated the end of WW2. Sadly, the 95-yr old former sailor George Mendonsa passed away a few weeks ago.