originally published
February 6, 2011

Sad update: 02.27.11



Need more pie!
"Need more pie." It's a perennial favorite line from TV's West Wing…Communications Director Toby Ziegler (Richard Schiff) enjoyed his pie. I do too. But the bar has been raised recently when a really kind person delivered a piping hot homemade apple pie, fresh from the oven.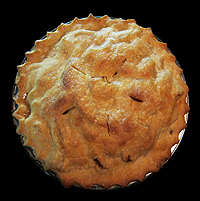 Sometime early one evening last week the doorbell rang…"good, you're home!" our neighbor said as she dashed to her vehicle to fetch the most amazing warm apple pie I've ever seen. "Careful, it's hot."
Outdoors the temperature was somewhere in the lower single digits and here is this wonderful but coatless person delivering a thank you gift for plowing a bit of snow. Louise and I were dumbfounded, but delighted. The pie was a thing of beauty – nearly as attractive as it was tasty. Before dropping a knife into it I had to capture a few photos – partly 'cuz it was so darned gorgeous, but also to capture and preserve the special moment. It is humbling to receive something this special as a thankyou gift. A nice Hallmark greeting card woulda' been swell, but this amazing taste-treat just blew us away. Perhaps the best pie I will ever have the pleasure of tasting. Thanks, Deborah.
UPDATE 02.27.11: Sad news from neighbor – Deborah, the master pie maker mentioned above, passed away suddenly yesterday (Feb. 26, 2011) at McLaren Hospital of an aneurysm. Tragic.