Why is the public paying legal fees for Wing-nuts?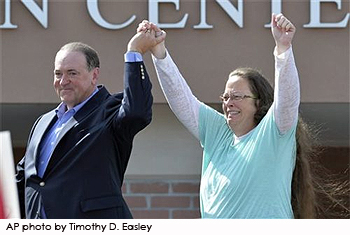 Thankfully, I am not the only one who questions government expenditures incurred by radical right-wing extremists. Legal bills in the "Flint Water Crisis" paid by the state & city of Flint has already exceeded $34.5 million which has become a bit of an outrage here in the Great Lakes State.
In a similar situation involving right-wing legal troubles in the fine state of Kentucky I read this morning that KY residents are being asked to pay over $222,000 in legal fees for Kim Davis the Rowan County Clerk who did not want to issue same sex marriage licenses ... even though there was a Federal Court order directing her to do so. Davis, shown above, became a celebrity for political pundits like Mike Huckabee who made sure he did not miss a national photo-op when Davis was released from county jail for defying the law.
I'm more familiar with the details of the Michigan case since I live just 17-miles South of Flint - the contaminated water issue has been front page news, perhaps the story of the century around these parts. It was a man-made crisis caused by the Republican administration, who, at the time were attempting to save money on local water service for the citizens of Flint. The Republican state legislature & GOP Governor, Rick Snyder, rammed legislation thru Lansing that flipped a voter referendum rejecting Snyder's plans for "Emergency Managers" to take operational control of local governments in bankrupt cities like Detroit, Flint, & Benton Harbor. The GOP ignored with will of the people...so why are they not paying their own legal fees out of their own pockets? I do not understand why we allow these radical right-wing Republican extremists to get away with this.