As seen on TV...
Found myself humming-along to the humdrum tune promoting Apple's latest "smart device". Have you seen it?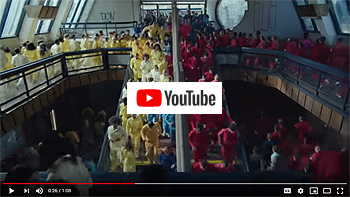 Lyrics:
♪Come along catch a Heffalump
Sit with me on a muddy clump
We'll sing a song of days gone by
Run along now don't be glum
Get you gone now have some fun
Don't be long for the end is nigh
Come, come, come, come, come along now
Run away from the hum-drum
We'll go to a place that is safe from
Greed, anger and boredom
We'll dance and sing 'til sundown
And feast with abandon
We'll sleep when the morning comes
And we'll rise by the sound of the birdsongs…♪
"Come Along" by Cosmo Sheldrake. Commercial made for Apple by ad agency TBWA\Chiat\Day of Los Angles. Production in Czech Republic (because, goodness knows Americans are not capable of these stunts & production). web-link: https://www.youtube.com/watch?v=d8LJXcQhD0k
Seriously, catch a Heffalump!