Grow a spine, Republicans...Vote to End Shutdown & Override Trump's Veto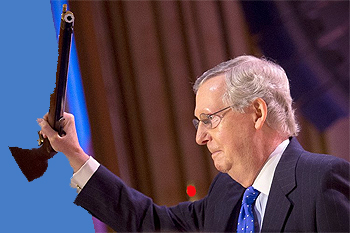 The problems surrounding the gov't "shutdown" are caused 100% by Donald Trump. In December the Senate voted overwhelmingly for the Continuing Resolution to fund the gov't but Paul Ryan wouldn't bring the bill up in the House. Now we have a new Congress so Mitch McConnell needs to stop the obstruction and allow the Senate to debate & pass the same or similar bill; and since Speaker Pelosi's House has already passed short-term funding measures, the gov't shutdown would be over for the time being...assuming two/thirds of the Senate votes affirmatively to override Trump's vow to veto any bill that does not fund the wall that he claimed Mexico would pay for. The notion is laughable that the President is "negotiating" by advocating that Congress approve $5.7 billion funding for a border wall which is more cash than his own homeland security team had requested for the current fiscal year. The "bargaining chips" the Donald is floating (limited DACA and TPS protection) are ridiculous since both of those problems were caused by Trump himself. I'll admit it - I'm surprised the Donald didn't include a proposal to reunite the children his homeland security staff separated from the parents. As I said in the 1st sentence above: 100% of the problems the nation faces in regards to this border wall shutdown are created by Donald J. Trump.
The media is wrong to advance the notion that somehow Democrats and those who oppose Trump need to "come half-way" in these discussions to solve the problem created by one person: Donald Trump. The majority of Americans do not support the President of his crazy plan...and even if Kirstjen Nielsen, Homeland Security Sec't, had the $5.7 billion likely her department wouldn't get around to spending it anytime soon. Heck, they've not spent the cash they got in 2018; the only border wall activity last year involved repairs & maintenance to existing border walls & fencing. Before any construction can begin the Federal government needs to obtain clear title to the land - and that's a process that could be tied-up in litigation for years. There are already numerous cases pending where land owners are fighting the gov't case for eminent domain.
Meanwhile, Federal employees who are being forced to work with no pay ought to have their grievances expedited thru the courts...if Republicans in Congress are unwilling to bring this despicable chapter to an end, America needs the 3rd branch of gov't to hold Trump accountable and end the shutdown. Fewer than 37% of American voters support the wacky politics of Trump.
C'mon, Mueller Investigation! The nation needs to see your completed report.