Maddow: Putin's Hold On Our President - "Blackmail In A Bottle"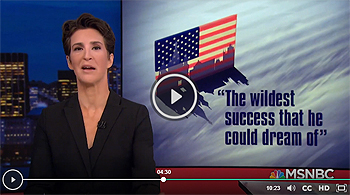 The New York Times reported Sunday (01.14.19) that "Trump Discusses Pulling US From NATO" based on interviews with senior aides over new concerns about Russia's grip on Donald Trump. Maddow discussed the impact of General Jim Mattis leaving the Defense Department and the mystery behind Trump seizing the only US record of the July 2018 talks between Trump & Putin in Helsinki. The only logical assumption analysts say is that the Donald is beholden to Putin for some reason - not clear why, but hopefully details will trickle out. Maybe the Russians have better records of the meetings...which MSNBC's Rachel Maddow says: it's like Trump faces "blackmail in a bottle". Trump told Fox News that investigators have "found absolutely nothing" which is hardly a denial to Jeanine Pirro's question: "have you ever worked for Russia, Mr. President?" So the list of Trump's overly-friendly acts & comments regarding Russia continues to grow...it's actually been going on for over 30-yrs.
Source links: MSNBC video clip...NY Times 1.14.19 article.